First Priority Manufacturing Inc. is located in beautiful N.W. Washington, perfectly situated between Seattle Washington and Vancouver B.C, for easy access to national and international shipping. Established in April of 2000, we are a leading manufacturer in the nutraceutical field, specializing in professional and retail lines.

Our full service cGMP manufacturing facility is certified under 21 CRF Part III. We are a registered facility with the FDA and are certified by the State of Washington for dietary supplement manufacturing. We would also like to note that our manufacturing facility has been approved in over ten countries for dietary supplement exporting.

All processing and manufacturing is done in isolated production rooms (clean-rooms) to prevent any cross contamination of ingredients and products. Our comprehensive, exacting standard operating procedures determine every facet of the process.

Rigorous Testing Methodology

Our testing protocols are established utilizing an NSF designed hazard analysis program. Since every raw material has a unique microbial or environmental adulteration hazard (such as radiation), each material has a predetermined testing protocol suited to its own risk level. Regardless of how low the risk level is determined to be, every raw material is tested using the USP and/ or AHPA recommended standards.

First Priority guarantees that all our botanicals are radiation free. We have a standard monitoring program to insure that no radiation is used in the sterilization of our botanicals. When sterilization is needed, we use a dry-steam technology or other non-destructive
technologies.

We conduct 100% testing using USP method 1119 Near-Infrared spectroscopy, a scientific process that uses chemometric models to identify all raw materials. Our reference standards are third-party laboratory-verified, certifying their validity.
We conduct regular audits of our outside laboratory partners and qualify their results eliminating ?dry labbing? dangers.
Environmental testing for microbiological bio-burden hazards is an integral part of
the testing program designed by First Priority. Introduction of microbial adulterants during holding or processing is monitored utilizing USP Method 1116 for continued evaluation of microbial limits in controlled areas. This method was adopted by First Priority voluntarily, from the pharmaceutical codes. Dietary supplement regulations do not require this, but we believe it is imperative for quality.
We have also developed a program utilizing spectroscopy USP method 1119 to establish chemometric models of finished products. These testing models are then used to assure
that products meet all intended identity, strength, and composition specifications unique to
each finished product batch.
Finally, every finished batch is tested again for microbial adulteration, thus assuring that every batch meets our purity standards.

Hazard Analysis

First Priority maintains a robust hazard analysis program that reviews the potential for risks associated with each manufacturer of ingredients following NSF guidelines.

First, four members of our quality team review the quality program of a potential vendor, utilizing physical audits, interviews, testing method validations, and background checks for past or current regulatory issues.

Next, all compiled information is brought to a classification session. During this session, a review of the documents and ingredients supplied by the potential vendor is conducted. Potential hazards are proposed such as country of origin, inherent ingredient hazards (mold, E. coli, Salmonella ) or economical adulteration potentials.

After all potential hazards have been agreed upon and classified, the probability of such hazards occurring is determined, using a classification from frequent (1 in 5 purchases) all the way down to extremely unlikely ( 1 in 10,000 purchases). These are determined by scientific methods, observations, real-life testing protocols, and industry inside knowledge of economically generated adulterations. Last, using the severity and probability, a risk level is determined.

Mitigations

Our ingredient mitigations are then determined by risk level. Mitigations describe how a risk level is reduced by the design of our quality systems. Immediate precautions are designed to block hazards in normal conditions. Also included in these mitigations are at least one upstream and one downstream protection to block the hazard from entering the processing chain. These mitigations are ingredient-specific and are added to each ingredient specification sheet, assuring that each time that ingredient is received it is reviewed and tested for its unique hazard(s). All ingredients have risks and require systems to block sources of containments. We do not rely on the supplier for your patient s safety. Risks such as radiation contamination, heavy metals, E. coli, salmonella, staph, dangerous spores, and economic adulteration are monitored by our rigorous testing methodology. By identifying such risks ahead of time, the mitigation process enables us to block these hazards.

First Priority s procurement team is continually seeking the purest ingredients from the finest suppliers around the globe.

Start your own product line
We can guide you from start to finish. Let us help you get started today.

First Priority Manufacturing is a privately held family owned and operated company by professionals who have been in the business of alternative medicine, and nutritional supplements for 25 years.

We know the importance, of effective, on time service, and quality you can stand behind.

Vendor Showcase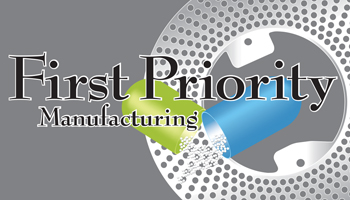 Specializing in the Manufacturing of Nutritional Supplements, Vitamins, Dietary Supplements, Bulk Capsules, Tablets, Capsules, Powders, Sachets, Fill Form Daily Packets, Animal Nutrition. Low Minimums and Quick Turn Around.

At First Priority Manufacturing Inc. we understand that great products start with great customer service.





Custom formulations and private labeling come with many questions. Building a private labeled custom product requires specific quality guidelines that must be met. Low minimums and quick turn around are essential. At First Priority Manufacturing quality and service are our priorities.





We offer a vast inventory of raw ingredients stored in our climate controlled production facility. Are you looking for an ingredient in bulk? We stock an array of vitamin, mineral and herbal raw ingredients. We can supply bulk ingredients and source hard to find specialty ingredients for your formula. Our in-house manufacturing facility and laboratory are located in the USA. read more